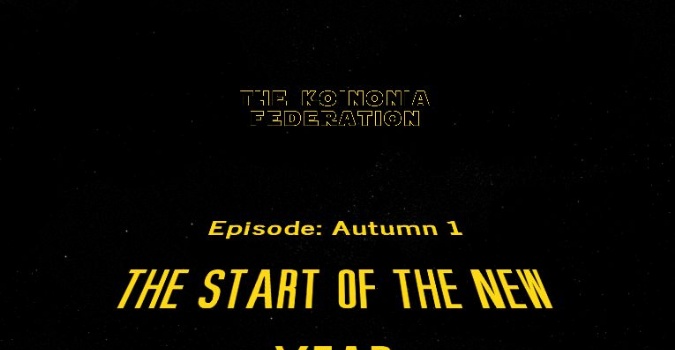 This week sees the start of a New Academic Year and a New Term.
Like the triumphant first notes of the theme and the scrolling words moving up the screen at the start of a Star Wars film,
I wonder what our stories will be as we share our summers, and for some the time between March and now.
As the words scroll we see the stories that form and frame the next part of our journey together.
It tells of adventures or struggles, of excitement and tears and the last few lines set us up for what happens now.
What are the stories we will tell others?
What are the stories we keep to ourselves?
Are we looking with energy and excitement at what will come in the next seven weeks?
Or is it with trepidation and concern that we step into each week as it comes?
Either way, our stories continue and these stories have the power to define us and set our daily paths.
As we daily step into school, will we face them with strength and a smile?
And how will our stories affect those that we will meet?
Will we be sending out waves of peace and love – forces stronger than fear and anxiety.
Will we equip others to be positive about their days ahead, positive about the faith that has strengthened them.
This week, let us write our own opening sentences to frame a positive year regardless of what the world brings to us.
This term, let us help others to write their lines with thoughts for faith and love and community and family and fellowship.
And This Year, let us invite God to be at the centre of all we do, guiding us safely into each day. Amen.
Spirit of the Living God,
Fall afresh on me.
Melt me, mould me, fill me, use me.
Spirit of the Living God,
Fall afresh on me.
https://starwarsintrocreator.kassellabs.io/#!/CMG8JXWW2Fk69BX7up8i