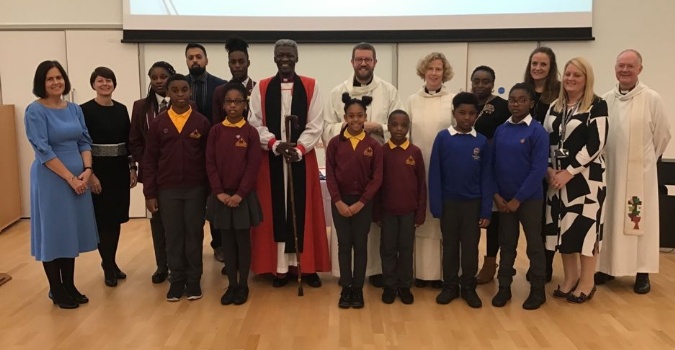 Although being thoroughly made to feel welcome in the Federation from September onwards, it felt worth waiting for to be welcomed, prayed for, anointed and blessed by Bishop Karowei on the 14th November.
The service, led by Rev Margaret Cave (Vice Chair of Governors, Area Dean for Charlton Deanery and Team Rector for East Greenwich and Christ Church), included an act of blessing from Bishop Karowei, some words of wisdom and encouragement from Archdeacon Alastair and involvement from many folks from around the federation.
Among others – students welcomed us with their musical skills, Governors presented the school with A Chalice and Paten as a gift from the Parish, members of each Pupil Faith Team led an act of welcome, and our Executive Headteachers led us all in prayer.
Chalice and Paten
Rev. Dominic's family were invited alongside the Rector of his previous church who read the Bible reading from Philippians 4:4-9.
As well as being a day of welcome for Rev Dominic, it felt like a day of being blessed for everyone involved. Many thanks need to go to all those who had a part in preparing the day and joining with us.