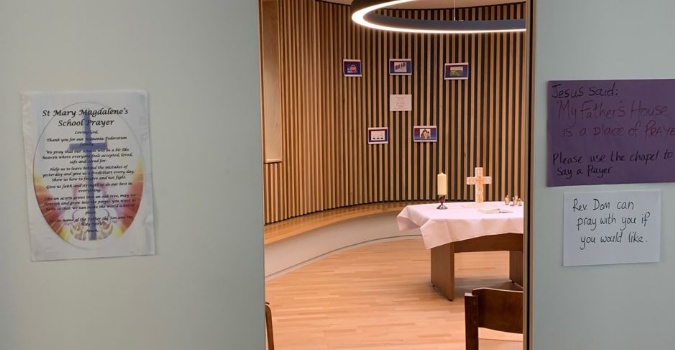 When I arrived, the Chapel was closed up and tidied away. It was waiting for something to happen and someone to love it into life. Each Half Term I have made sure that something interesting is in it, around it or visually eye-catching about it.
We've had trees in it, we've had prayer cards stuck to the walls, a vine growing across it, music playing and videos showing. The doors that were once closed are almost always open. The space is seen and felt. Young people and staff come in, look around, interact with prayer activities, listen to the music or chat with me.
We've gained a beautifully decorated cross from the Design Technology department and a paper Stained Glass Window piece too. The Art Department has exhibited some paintings and drawings and we hope to frame some prayers from the Monday Lunch Art Club.
The Peninsula Primary classes have visited to explore and pray and in the summer we will use the Peace Garden behind the Chapel too.
Come and see the chapel when you are visiting the school.
Encourage your child or young person to explore what is happening in there this term.
Jesus said 'My Father's House is a place of prayer'. Come and pray – for yourself or someone else. This term there will be a growing number of prayers going up around the walls.
Visit, O blessed Lord, this place
with the gladness of your presence.
Bless it and all who work or visit here
with the gift of your love; and grant that
we may show your love to each other
and all whose lives we touch.
Lord Jesus Christ, be with us now and for ever.
Amen.