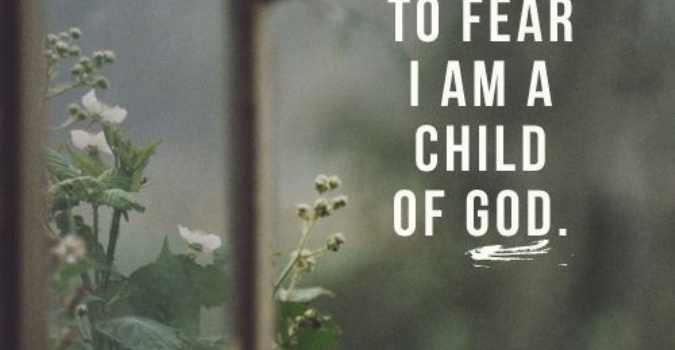 Today is remembered in the church calendar as the Feast of the Annunciation – when Gabriel visits Mary. (Luke 1:26-38)
(For some of us, it might feel like we've only just had Christmas, but today we remember that Christmas will be with us once again.)
But as we take each day as it comes, we probably feel unable to plan anything until we know what will happen in the coming days, weeks and months, until normal days return. And as we feel scared or perplexed by all that is happening around us – as Mary looks scared and perplexed in the eyes of Gabriel – so we are told 'Do not be afraid'.
We are told that these words are repeated 365 times in the Bible. Three Hundred and Sixty Five times.
Once for every day of the year. Do not be afraid.
As if we needed the reminder, so today we are here looking down on a story we know so well – a story of someone given surprising news, shocking information and chooses to face it with acceptance and then a song: Luke 1:46-55. In this Mary teaches us that we can follow God and be blessed as we do something really difficult and face something seemingly impossible. We also learn from her example that many fears can be dampened through song.
Many people have been joining Gareth Malone (the man famous for the Military Wives Choir on the TV) in a national choir singing practice on youtube each evening. Songs, singing and communal singing especially have great power to dispel fear, overcome great sadness and grief and encourage us to connect with each other through words and music. Maybe there is a song that you are singing to yourself at the moment, maybe there is a hymn or church track you are listening to each day to face the day with faith. I'd love to hear them.
There are many that go through my head each day – a blessing sometimes. Currently I am thinking about 'I am no longer a slave to fear, I am a child of God' by Bethel and 'O Lord my God, when I in awesome wonder consider all the works thy hands have made…Then sings my soul, my saviour God to thee. How great thou art, How great thou art.'
Choose a song that lifts you in the day.
Choose something that reminds you of life in all its fullness.
Choose something that reminds you of God's love for us.
Take care, do not be afraid and keep singing.