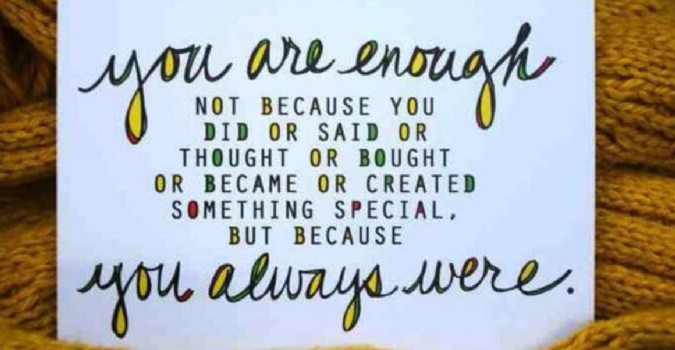 Although the title makes it sound like I am giving in, you may need to be reminded that enough is enough.
We use this phrase sometimes to show our exasperation and to say that we have had all that we can take and that we will take no more.
But I want us to reclaim this phrase to remind us of the real meaning of enough.
Enough is when we have a bowl to fill and it gets filled to the brim. Enough is when we have a price to pay and our purse matches our purchase.
Enough is when the task you have done has fitted the bill, been at the right time, fulfilled the purpose and got you to where you needed to be.
Enough is the right amount before you get too full, generous but not overwhelming, loving but not smothering.
And often – as we live our own lives and work our own way – we try and be more than enough. We strive to exceed expectations and become the superheroes that we want to be. We climb higher to reach goals just out of reach, we dig deeper to extend our boundaries and we go further to prove our worth. But in doing so and doing it too many times we are in danger of doing more than is healthy, more than is wise and more than is needed.
And we find out that enough was indeed enough.
The American writer Brene Brown talks of a world that tries to convince us that we are never enough: Never good enough, strong enough, good-looking enough, rich enough, fast enough, clever enough…anything enough. The world sells us dreams that the things we can do or buy can then make us enough but that is false because I believe God has made us enough. God has made us in His image which is enough. God strengthens us with His Spirit enough. God is with us even when we don't feel Him enough. God is enough.
Christians talk about themselves being salt and light for a world that tries to sell us worldly dreams and pleasures but even then we need to remind ourselves that we need to be salt and light in enough quantities to be right for those we are supporting and loving and praying for: Too much salt and something becomes toxic, too much light and everything becomes blinding. Enough is enough.
In these days of heroes and bravery and outstanding acts of kindness, it is enough to keep going and keep trying and keep being enough.
I choose in days like these to remind myself that God is enough and that like a giant, eternal game of hide and seek – God seeks us out and loves us even when we feel like enough is enough.
Remember these words for the Church in Rome and for us today:
For I am convinced that neither death, nor life, nor angels, nor rulers, nor things present, nor things to come, nor powers, nor height, nor depth, nor anything else in all creation, will be able to separate us from the love of God in Christ Jesus our Lord. (Romans 8:38-39)
God's love is enough to stick like glue to you. May you feel loved by Him today.
You are enough and you do not need to be any more than that. May you feel His peace in this today.
And May your strength be enough to get you through this day. And May God bless you and let you know that you are enough. Amen