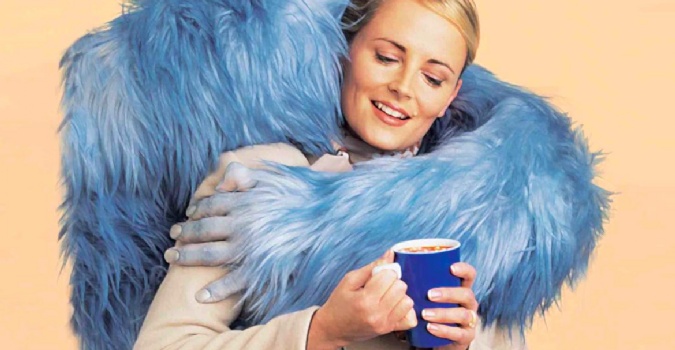 Today is going to feel a bit like this I think. I wonder whether yours will too.
One of our daughters came down and started the day wrapped in a warm blanket and watched a DVD from when she was very small.
One of our sons came and asked for hug.
And I am sitting eating a toasted teacake for breakfast.
Sometimes you just need to give yourself a hug in the way that you need it.
It might be wrapping yourself up with blanket and a book you've read so often you know the characters like friends.
Or watching a film that makes your heart lighter and the world feel less cold.
Maybe eating something that feels like the only thing you want to eat in the whole world.
Perhaps it is a large mug of hot chocolate with whipped cream on top.
Years ago Cup a Soup advertised their soups as a great bug hug in a mug, showing a lady drinking her soup wrapped in warm fluffy arms and feeling like the stressful world she worked in could just melt away – if only for a while. When was the last time you felt like you needed that?
And when was the last time you gave yourself permission to feed that feeling?
I believe it is vital that we feed our bodies in ways that bring us peace and positivity.
I also believe that our stomach is not the only thing that we need to feed to help us be hearty and healthy.
We feed our Physical bodies with food so that we have energy and strength to keep going.
We feed our Mental selves with thoughts to think, memories to remember, puzzles to solve and creations to create to feed our need to think ourselves out of problems and into new ways of thinking that help us feel joyful.
We feed our Emotional sides with things that connect us, things that remind us of love and care – a hug, a smile, maybe even with a tear.
And of course we need to feed our Spiritual selves – the soul within – with stories of faith fulfilled, with lines of scripture or songs of joy that remind us of a God who loves, a Christ who gives and a Spirit that seeks us out and guides our way.
What will you give yourself today that gives you a hug or a boost or a pat on the back?
What will you plan – the next time you can – that feeds your body, mind, spirit or soul?
Of course – every playworker and priest will tell you – when we play, when we have fun and end up laughing heartily or crying from smiling too much or winning something or finding a picture or watching a video or sharing a joke that makes us laugh out loud - we feed all these things.
When did you do that last and when will you plan to do that next?
These words give me a spiritual hug when I need them – they remind me of many things - A song I grew up with, God's blessing as if a Priest's hand in upon my shoulder when I say it, and a gentle tune that reminds me to keep going for God is with me:
May God's blessing surround you each day, as you trust Him and walk in His way.
May His presence within guard and keep you from sin.
Go in peace, Go in joy, Go in love.