In the Koinonia Federation we feel that Design and Technology is far more than making models. We give children opportunities to design products for a specific purpose. Children learn to consider how well their own products meet the design brief and what refinements may help to improve them. During Design and Technology lessons, children learn and develop practical skills using a range of equipment and materials. Health and safety is paramount in our DT lessons and we ensure that we teach the children about this at every opportunity.
Children experience a whole design process from their initial ideas through to the evaluation of a finished product. This process is often depicted as a cycle rather than a linear route in order to emphasise the importance of continually evaluating and refining a product design. This is known as the design cycle.
CLICK HERE to view the Koinonia Federation Design and Technology Curriculum Map.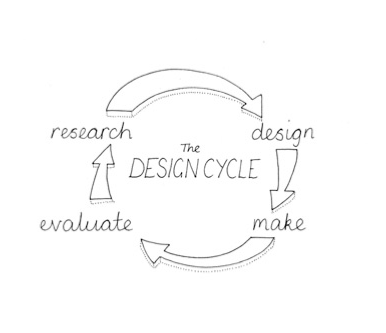 Over the course of their primary career, Koinonia Federation children will be involved in units of learning that cover five strands of Design and Technology:
STRUCTURES
Structures can be assembled from nets, or an open framework of rods. Structures may be freestanding or supported; they can be made from one material or a composite of materials, each adding a particular property to the finished article.
MECHANISMS
A mechanism is a device which takes one type of motion or force, and produces a different one. The role of a mechanism is to make a job easier to do. Some common mechanisms are sliders, levers, linkages, gears, pulleys and cams.
TEXTILES
Textiles are used to manufacture clothes as well as to provide structure to frameworks. The flexible nature of fabrics means that they can be cut and shaped to fit complicated shapes.
COOKING AND NUTRITION
Cooking and nutrition involves learning how to prepare food using the principles of nutrition and healthy eating. Practical food preparation, cooking skills and aesthetics of food are key aspects of children's work when designing and making food products.
ELECTRONIC SYSTEMS (KS2)
Through their understanding of circuits, children will also develop a respect for the power and potential hazards of electricity in their everyday lives. Fine motor skills are developed as children learn how to build a circuit with thin wires and tiny components.
For more details of the exciting projects your children will experience in their learning journey at The Koinonia Federation please follow the link below to our all through Design and Technology plan.
Below are some examples of some of the many varied design and technology projects that the children engage in over the course of their primary career.